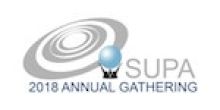 6th June 2018, RBS Conference Centre
The 3rd SUPA Annual Gathering was very well attended with just under 200 participants. The event took place in the superb venue of the RBS Conference Centre, Gogarburn.
Following a warm welcome from Paula Richie, Regional Head of Business Development RBS, and the SUPA CEO, the morning session was led by a research highlight presentaion from Prof. Daniel Watts, University of Edinburgh, on Illuminating Nuclei for Neutron Stars.
Early career researchers gave talks on their research highlights, experiences and career trajectories. Full report available here.
Understanding our star and solar flares using X-ray and ultraviolet observations Dr Natasha Jeffrey, University of Glasgow
High-dimensional entanglement: a personal journey 

Dr Lucia Caspani, University of Strathclyde

From MeV to TeV: event simulation and model-fitting at the LHC and beyond 

Dr Andy Buckley, University of Glasgow

Optical sensing and manipulation for physico-chemical and biomedical applications 

Dr Stella Corsetti, University of St Andrews

Soft materials for energy applications 

Dr Job Thijssen, University of Edinburgh
SUPA Prize students presented very engaging talks on their research and experiences:
Alistair Fikouras (St Andrews); Hannah Levene (Edinburgh); Craig Picken (Strathclyde); Ermes Toninelli (Glasgow) Raphael Errani (Edinburgh); Manu Muhiyidin (West of Scotland); Dale Scerri (Heriot Watt)
Dr Olga Kozlova, Converge Challenge, chaired a panel session "Entrepreneurship and Intrapreneurship for Physicists" with audience participation via sli.do, featuring:
Dr Nick Psaila (Optoscribe); Dr John Nicholls (M Squared); Ruairidh Henderson (Higgs Innovation Centre); Paula Ritchie (RBS)
The conference was concluded by a captivating keynote talk on the "Quantum Universe" from Prof Neil Turak, Perimeter Institute, Canada.