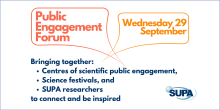 The SUPA Public Engagement Forum brought together those with a passion and interest for public engagement across SUPA and beyond, exploring current activities and illustrating what can be achieved together with external partners with whom we work to promote public understanding of science. Over 80 people from within SUPA, other research pools, Scottish Government, and Public Engagement Professionals took part, from undergraduates and up.
The event opened with a passionate Welcome address from Prof Julie Fitzpatrick, Chief Scientific Advisor for Scotland.
In the morning, we heard from key Scottish science centres about what platforms and audiences they can provide for researchers:
Abi Ashton, STFC Public Engagement Manager at the Royal Observatory, Edinburgh
Dr Stephen Breslin, Glasgow Science Centre
Dr Hermione Cockburn, Dynamic Earth
Bryan Snelling, Aberdeen Science Centre
In the afternoon we heard from a number of science festivals about how they work, what they look for in an activity and who to pitch to:
Howie Firth, Orkney Science Festival
Laura McLister, Edinburgh Science Festival
Mikey Jarrell, The Big Bounce (IOP)
Dr Suzanne McEndoo, Explorathon
We also heard from a vast array of  SUPA researchers and physics-based projects throughout the day, that have all engaged with different areas of the public. First, Prof Martin Hendry (University of Glasgow), Chaired an exemplar session that included:
Dr XinRan Liu, Remote3
Katelin Donaldson, HYPED
Dr Aurora Sicilia Aguilar, University of Dundee
Prof Catherine Heymans (University of Edinburgh) Chaired an exemplar session that included:
Dr Margherita Mazzera, TEDxAdventure
Erin Broberg, Dark Matter Day
Dr Martin Dominik, Royal Society Summer Exhibition
Dr Carol Trager-Cowan, Strathclyde
Prof Aidan Robson, Glasgow
The event took place on Zoom, clips of the sessions above will appear on this website shortly, please check back.