UPCOMING
Careers Event
Each January we offer our researchers (student and post-doc) the opportunity to hear from speakers with a range of careers, all having started with a PhD in physics. Participants will get to chat to each speaker from academia, industry, journalism, and the civil service, as well as having the opportunity to get advice on their CV. 
The next Careers Event will be held at Dynamic Earth in Edinburgh, on Thurs 17 January 2019. Registration is essential.
PAST EVENTS
Welcome Event
The welcome event for new SUPA students is held in October each year. This engaging day provides an opportunity to learn about the breadth and excellence of research in SUPA, to meet colleagues from other Universities and to receive advice from peers. The 2018 Welcome Event was held in St Andrews on 23 October 2018. 
SUSSP74 Summer School 
Innovation and Entrepreneurship in Photonics 
16-23 June 2018, University of St Andrews
Annual Gathering
6th June 2018, RBS Gogarburn Conference Centre
The highlight of the year is the SUPA Annual Gathering, a showcase and celebration of physics in Scotland.
The 2018 Gathering was held in the RBS Conference Centre at Gogarburn, with approximately 195 students, academics and guests attending.
2017 Programme and report
2016 Programme
Careers Workshop
18th January 2018, Dynamic Earth, Edinburgh
The annual SUPA careers event is designed to demonstrate the wide range of careers open to physics PhD graduates. 
The 2018 event was attended over 60 students with 9 industry speakers and a CV clinic. Career opportunities presented were presented by representatives from Leonardo, University of Glasgow, Co-operative Bank, Marks and Clerk, UKATC, Education Scotland, Coherent Scotland, Canon Medical Research Europe and Optos.

SUPA Workshop on Infrared Technologies and Applications
6th December 2017, Heriot Watt University
The aim of this one day workshop was to have a set of speakers highlighting different aspects of technologies and applications in the near to mid-infrared spectral range and to then discuss, along with industrial representatives, possible future collaborations or joint grant funding projects with EU and UK programs. 
Morning and afternoon sessions on research and applications were followed by networking and discussions.  Programme
Welcome Event
The 2017 Welcome Event was held at Discovery Dundee on Thursday 26th October. Programme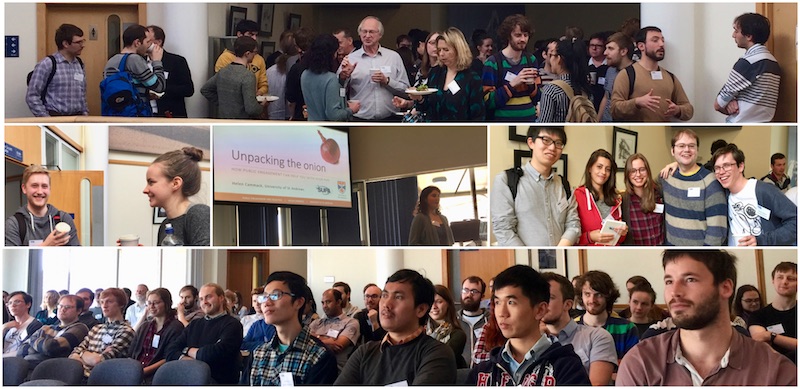 A report of the 2016 welcome hosted by Our Dynamic Earth can be found here.