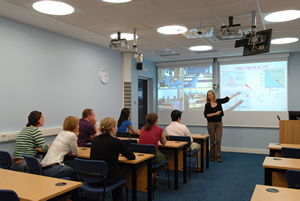 The SUPA Graduate School gives you access to expertise from eight universities to enhance your training during your studies. To this end SUPA has been delivering innovative video-conferenced courses since 2006 from the dedicated video conference (VC) rooms in each of the member institutions.
In September 2016 we completed an upgrade of the systems, with improved audio, HD video, fast content channel transfer, and a more flexible software-approach. Instructions on how to use the system can be found on the walls of the VC rooms, and at My.SUPA VC instruction page. You can also contact your local IT person for additional support.
We hope you find the experience of using the VC rooms enjoyable, we are happy to receive feedback on positive aspects, areas for improvement, or additional functionality that you would like to see. Contact webmaster
supa.ac.uk with any feedback.