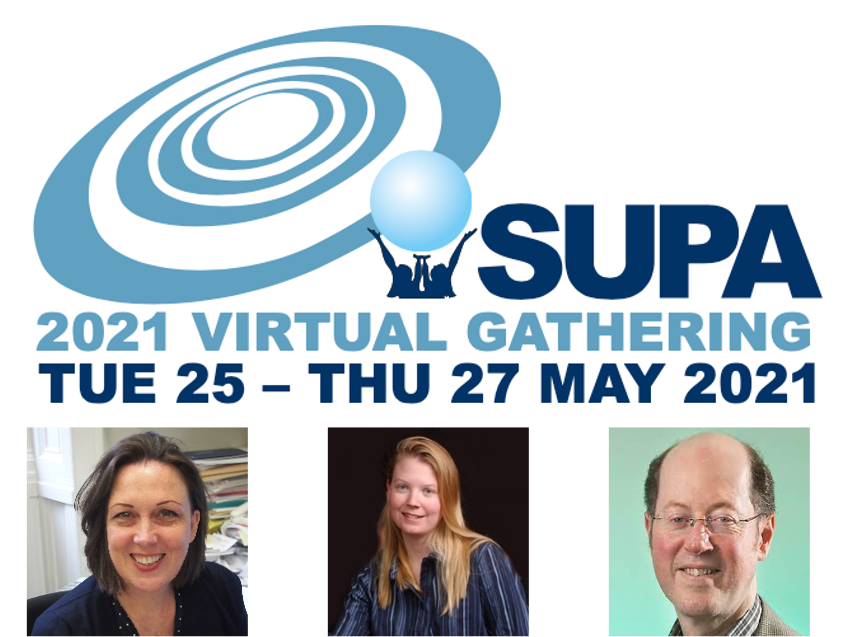 This year's Annual Gathering will once again take place virtually:
Tues 25 May to Thurs 27 May 2021
Keynote talks by three distinguished physicists tackle a hot topic with cold molecules, the impact of physics and science policy. Theme-based Showcase sessions with mini-posters will allow sharing and discussion of a wide range of activities since the 2020 Annual Gathering, while a final combined poster / exhibition / networking session will allow you to delve further into research advances and activities across SUPA, and importantly, catch up with colleagues that you probably have not met to chat to for a while.
A single registration via Eventbrite allows entry to all sessions. Zoom will be used for all sessions except the final session on Thursday which will allow informal interactions on Gather Town. Full event information including poster timetables, a guide to Gather Town, and the full list of exhibitors is available on the event webpage.
KEYNOTE TALKS
Our Keynote talks are confirmed as (please note the different times):
Tuesday 25 May, 1-2pm, Prof Sheila Rowan, University of Glasgow,"Challenge and change in science".
Wednesday 26 May, 4-5pm, Prof Heather Lewandowski, University of Colorado Boulder"Watching chemical reactions happen one molecule at a time".
Thursday 27 May, 1-2pm, Prof Martin Dawson, University of Strathclyde/Fraunhofer"Applied research in photonics: achieving impact from physics".
SHOWCASE
We're inviting all members of SUPA – student, technician, professor and everyone in between – to showcase a highlight from the last year for the SUPA community online as part of this year's SUPA Virtual Gathering. Your highlight could be about your research project, a scientific or technical breakthrough, a report on a recent paper you've published, a collaborative initiative between SUPA or other partners, a creative interdisciplinary project, an industry placement, or an outreach or public engagement activity. We will bring together these highlights in a series of online showcase sessions grouped by theme to share, inspire and engage our community. All are welcome at all sessions.
Showcase Sessions
Up to 10 posters relevant to each theme will be selected for presentation over Zoom, where those selected will be asked to talk about the content of their poster for 3 minutes, with 2 minutes for questions and discussion.
The live 1hr Zoom sessions will take place as follows:
Tues 25 May, 9.30am – Astronomy & Space Science (Astro)
Tues 25 May, 11am – Condensed Matter & Material Sciences (CMMS)
Tues 25 May, 2.30pm – Photonics (Phot)
Weds 26 May, 9.30am – Nuclear & Plasma Physics (NPP)
Weds 26 May, 11am – Particle Physics (PP)
Weds 26 May, 2.30pm – Energy (Energy)
Thurs 27 May, 9.30am – Physics & Life Sciences (PaLS)
Thurs 27 May, 11am – Public Engagement & Outreach (PEO)
Posters / Exhibition / Networking
On Thursday 27 May, 2.15 - 4.15pm, our final event element will take place in Gather Town. 
Networking: This is your opportunity to network, with lots of space available to chat to colleagues from across universities. A quick guide on how to use Gather Town and how to find one another will be circulated before the event.
Exhibition: We have invited a number of external organisations and partners for the Exhibition space, for you to talk to about their research, impact and careers. Confirmed so far are NPL, Royal Society of Edinburgh, Novosound and Thales.
Posters: Every poster submitted will be on display in rooms for each theme, and you can "walk around" to view all of the posters and chat to the authors. For information on how to submit a poster, please see the Event webpage, the deadline is 9am on Tues 18 May.