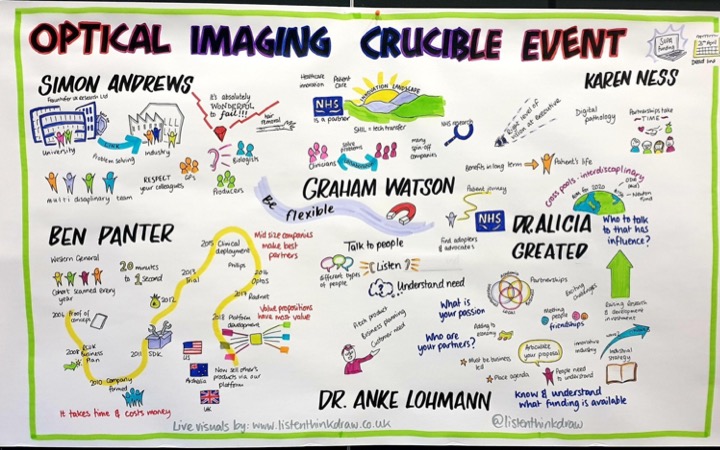 Through this SFC-supported collaborative project involving SUPA, life sciences pool SULSA and medical imaging pool, SINAPSE, we are exploring ways to build on Scotland's existing research and industry strengths in this important cross-disciplinary area.  A range of activities are mapping current university and industry activities and trialling ways of supporting new collaborative activities across academia and industry.
In April we ran a one-day Optical Imaging Crucible (based on the Scottish Crucible model) at which around 50 early career researchers, representing all aspects of optical imaging in biology from technology development to medical applications, together with industry representatives, had the opportunity to hear from inspiring international speakers and participate in an intensive and interactive day designed to kick-start new research networks and collaborations. 
The project is supporting seven proof-of-principle projects, led by research students and ECRs from across the three participating research pools.  Several investigators participated in the Crucible event and each project involves an industry partner.  Topics are diverse, including new imaging source development, exploration of imaging techniques for volumetric imaging in biology, and the development of a new industrial collaboration in ophthalmic imaging.  One objective of the projects is to enable the investigators to develop larger funding applications.
The project will be completed later this year.  For further information or to contribute to the project, please contact Karen Ness karen.ness
supa.ac.uk
Images: