The Scottish Universities Summer School in Physics 78 (SUSSP 78) will be held at the Centre for Science at Extreme Conditions (CSEC- https://www.csec.ed.ac.uk/), an institute within the School of Physics and Astronomy at the University of Edinburgh. The summer school will take place from the 18th – 23rd July, immediately prior to the Joint AIRAPT and EHPRG International Conference on High Pressure Science and Technology (https://iop.eventsair.com/airapt2023/).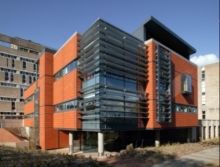 Extreme conditions research is a multidisciplinary field incorporating aspects of physics, chemistry, geosciences and biology. Understanding the combined effects of the pressure and temperature on matter is experimentally challenging, and its response to changes of these thermodynamic parameters is difficult to predict and interpret. Pressure can transform the 'ideal' metal Sodium into an insulator, whilst conversely transforming the universe's simplest molecule, hydrogen, into an atomic metal. High-pressure conditions also provide a propitious route to accessing novel phenomena in materials, such as high-temperature superconductivity, unlocking discoveries bearing impact on both fundamental and applied sciences.
The overarching aim of SUSSP-78 is to give PhD students and early career researchers a broad overview of high-pressure physics from both an experimental and theoretical perspective, providing foundational knowledge to support them in the pursuit of their own research agenda in the field. This summer school will be comprised of both lectures and invited talks reporting the latest exciting advancements within the field, together with group tutorial assignments. The school will also host a social programme every evening, and include a sightseeing excursion. Scotland's capital city also offers a diverse range of tourist attractions.
The target audience of SUSSP-78 are MPhys, PhD and Early Career Researchers seeking to widen their background and areas of expertise within the high-pressure field. All attendees are expected to present a poster describing their own research, which will provide students an opportunity to gain 20 ECTS credits.
Internationally recognised as one of the world's leading extreme conditions science centres, CSEC brings together researchers from the Schools of Physics and Astronomy, Chemistry, Engineering, GeoSciences and Biological Sciences, with interests in experiments at high pressures, under magnetic fields, and over a wide range of temperatures in extreme conditions technologies, and in computational materials science. The mission of CSEC is to carry out adventurous and far-reaching research through enhanced facilities for sample preparation and characterisation, exploitation of multi-disciplinary expertise in extreme conditions science, and effective use of central facilities for neutron and synchrotron x-ray scattering.
It is expected that every attendee contributes a poster presentation, required to validate the course with 20 ECTS. Some posters will be invited to provide a short (~5 minute) presentation of their work.
Dates:  18 July - 22 July 2023
Registration details
There are two different registration approaches, residential and non-residential.
Residential registration (£400) includes: · School fee. · Accommodation in individual rooms at the Pollock Halls of Residence. It should be possible for the attendees to request an extension for accommodation during the joint AIRAPT/EHPRG conference. · Buffet breakfast. · Lunch and refreshments, · Dinner · Excursion, Scottish experiences and social activities.
Non-residential registration (£200) includes: · Lunch and refreshments, · Dinner · Excursion, Scottish experiences and social activities.
 We encourage residential registrations given the popularity of Edinburgh as a tourist destination during the summer months.
For residential registration, single occupancy accommodation has been booked at Chancellors Court on Pollock Campus from 18-23 July (5 nights). If you would like to book additional nights at this location please visit the hotel web-site and follow these instructions:
 Select twin for single occupancy
Use code: EVENT for discount
In the 'notes' section of your booking quote the following booking reference: KX525602 and the hotel will try to keep you in the same room.
 Please note rooms are subject to availability so please book as soon as possible. Additional nights are not part of the summer school organisation and must be booked and paid by delegates.  
Registration IS NOW CLOSED.
For any request regarding the application please contact: sopa.events
ed.ac.uk
Financial support
Limited financial support is available. To apply, please send a brief summary of your intended poster contribution and motivation to attend the school, along with a letter of support from your supervisor, to sopa.events
ed.ac.uk, before 30th of April. Eligible applicants will be informed and reimbursed.
Major Sponsors
Scottish Universities Physics Alliance
Scottish Universities Summer Schools in Physics
School of Physics and Astronomy at the University of Edinburgh
AIRAPT
EHPRG
Committee
Miriam Pena-Alvarez (Chair)
Graeme Ackland
John Loveday
Ross Howie
Privacy notice. See attached file